The Invention of the World Wide Web
1989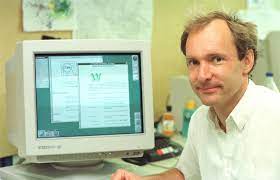 Tim Berners-Lee, a British computer scientist working at CERN (the European Organization for Nuclear Research), proposes a system for sharing information between researchers using hypertext.
1990
Berners-Lee writes the first web browser and web server software, and the first website goes live at CERN.
1991
The World Wide Web is made available to the public.
1993
The first search engine, Archie, is created by Alan Emtage. The Mosaic web browser is released, making it easier for non-technical users to access the web.
1994
The first e-commerce transaction takes place when a customer orders a pizza from Pizza Hut's website.
1995
Amazon.com and eBay are founded, revolutionizing online shopping.
1998
Google is founded by Larry Page and Sergey Brin, introducing a new way of searching the web using an algorithm that ranks pages based on their relevance and popularity.
2004
Facebook is launched by Mark Zuckerberg, changing the way people connect and share information online.
2005
YouTube is founded, allowing users to upload and share videos on the web.
2007
Apple introduces the iPhone, making it easier for people to access the web on their mobile devices.
2010
Instagram is launched, popularizing photo sharing on the web.
Present Day
The World Wide Web continues to evolve and shape the way we live, work, and communicate.