Timeline of Russia's Annexation of Crimea in 2014
November 21, 2013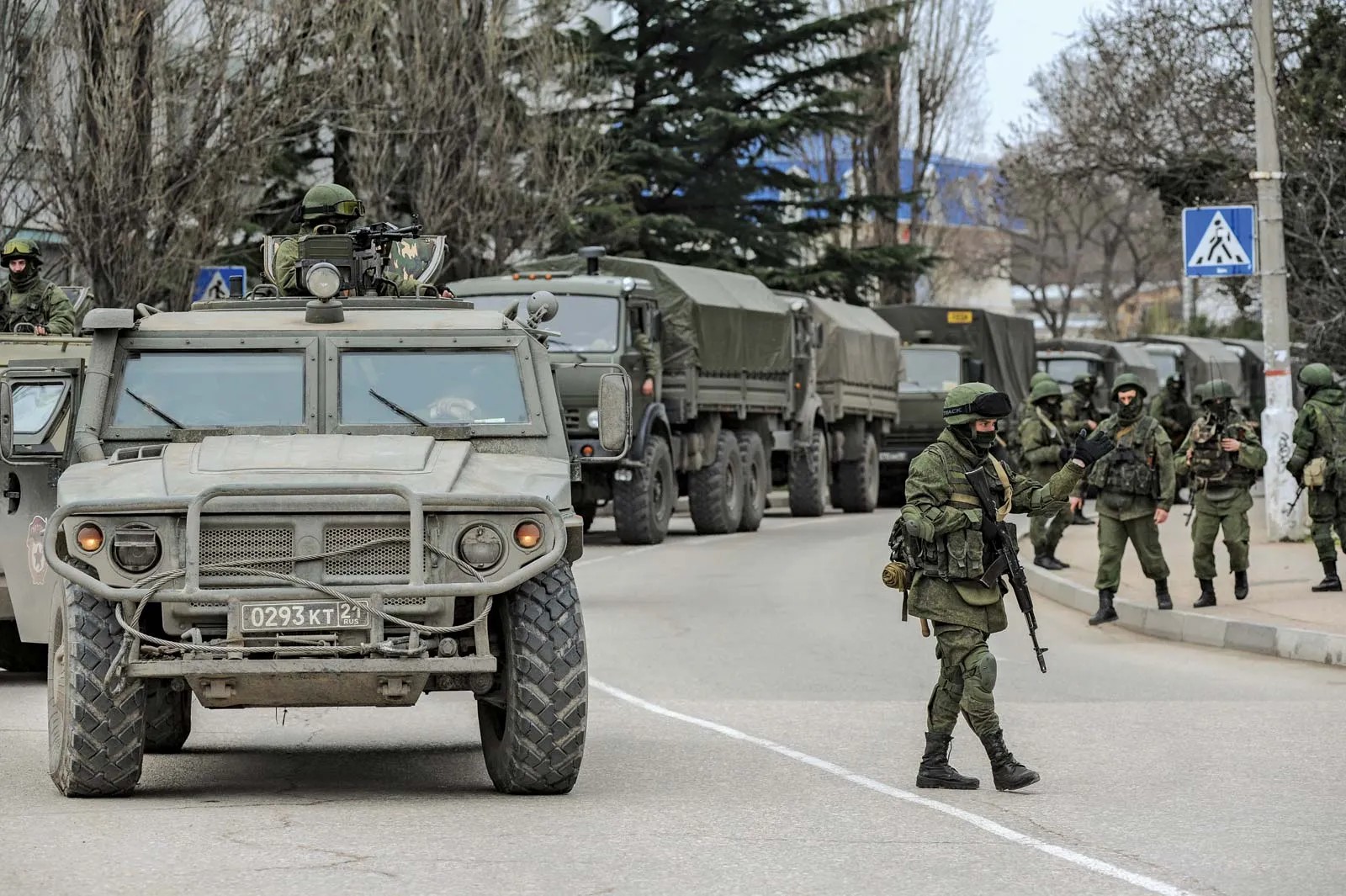 Then-Ukrainian President Viktor Yanukovych suspends the signing of an Association Agreement with the European Union, sparking protests in Kyiv and other parts of Ukraine.
December 17, 2013
Russian President Vladimir Putin offers financial aid to Ukraine to help stabilize its economy.
February 20, 2014
More than 70 protesters are killed in Kyiv's Independence Square during clashes with security forces, leading to the ousting of President Yanukovych.
February 21, 2014
President Yanukovych flees Ukraine and goes into exile in Russia.
February 26, 2014
Unidentified armed forces, later revealed to be Russian troops without insignia, take control of key facilities in Crimea, including airports and government buildings.
February 27, 2014
Russian troops surround Ukrainian military bases in Crimea, and the Russian flag is raised over the Crimean Parliament building.
March 6, 2014
The Crimean Parliament schedules a referendum on the status of Crimea for March 16.
March 16, 2014
A controversial referendum is held in Crimea, with voters given two options: to join Russia or to restore the 1992 Crimean constitution and remain part of Ukraine. Russia claims that 97% of Crimeans vote in favor of joining Russia.
March 17, 2014
The Crimean Parliament formally applies to join Russia, and Putin signs a decree recognizing Crimea as an independent state.
March 18, 2014
Putin announces that Russia will annex Crimea, and a treaty is signed between Russia and Crimea to make it a part of the Russian Federation.
March 21, 2014
The European Union and the United States impose sanctions on Russia in response to the annexation of Crimea.
March 27, 2014
The United Nations General Assembly passes a resolution declaring the Crimean referendum invalid and supporting Ukraine's territorial integrity.
April 25, 2014
The United States, European Union, and Russia reach an agreement in Geneva calling for de-escalation in Ukraine.
May 11, 2014
Separatist referendums are held in Donetsk and Luhansk regions of Ukraine, with both regions declaring independence and seeking to join Russia.
May 25, 2014
Ukraine holds presidential elections, and Petro Poroshenko is elected as the new President.
July 17, 2014
Malaysia Airlines Flight MH17 is shot down over eastern Ukraine, killing all 298 people on board. The plane is believed to have been shot down by a missile fired from territory controlled by pro-Russian separatists.
August 26, 2014
Russian troops and separatist forces launch a counteroffensive in southeastern Ukraine, leading to further conflict in the region.
September 5, 2014
A ceasefire agreement is signed between Ukraine and Russia, known as the Minsk Protocol.
September 20, 2014
Ukraine and pro-Russian rebels sign a second ceasefire agreement, known as Minsk II.
October 26, 2014
Ukraine holds parliamentary elections, and pro-European parties win a majority of seats.
Conclusion
The annexation of Crimea by Russia in 2014 remains a contentious and complex issue, with significant international ramifications. The events leading up to and following the annexation have shaped the geopolitical landscape in the region and continue to impact international relations to this day.